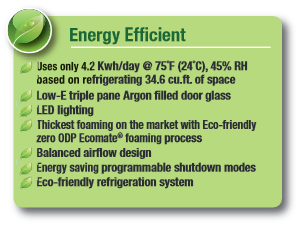 Vending machines have been around for a long time.
I think Noah had one on the ark! The problem with old-generation vending machines (closed front refrigerated models) is that they are energy hungry and very inefficient. They use a lot of energy to keep products cold and to operate the large fluorescent tubes.
ACTIVEND only uses latest-generation "eco friendly" environmentally responsible vending machines.
What's the difference? For a start we replace old school fluoro' lights with energy saving LED lights. LED's are the accepted "green" choice everywhere you go from cars to office buildings. They use just a tiny fraction of power and there are no bulbs to change. No non-biodegradable rubbish going to landfill.
ACTIVEND vending machines feature the thickest insulating foam available on the market today.
ACTIVEND vending machines also feature Low-E triple pane Argon filled glass doors. These combine to optimise chilling and refrigeration in the different product areas for very little cost. The quiet-running 240V motor uses just 3 KWH per day which is approx. $150 for an entire year. This can be reduced even further by connecting (piggy backing) two ACTIVEND vending machines to one motor.