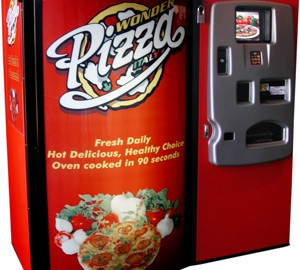 Now we've seen it all!
A company called Wonder Pizza has developed the world's first vending machine which delivers crunchy, hot pizzas in just 2 minutes.
The machine has a refrigerator and an electric oven. It does not microwave the pizza.
Simply order one of the three different flavours of pizzas and it comes out crispy and ready to eat in no time!
The vending machine holds 102 9-inch pizzas.
Where does it come from? Italy of course!