An Endless Supply Of Refreshing, Cool Drinks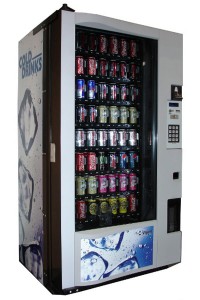 Water, fruit juices, soft drink, diet soft drink, iced coffee…an ACTIVEND drink vending machine is the ultimate in on-site convenience.
There's no need to leave the building to enjoy a refreshingly cool drink which is kept perfectly chilled by the eco-friendly refrigeration technology.
The extra-large point of sale window with its bright LED lighting makes it much easier to select your favourite drink, day and night. LED lights are energy efficient and don't require changing of bulbs.
Touch screens and backlit keypads make product selection as easy as ABC and 123. The latest gravity and elevator systems ensure smooth and swift delivery of each item – the days of the "clunk" of a drink can into the delivery tray are a distant memory.
With the convenience of accepting coins, notes (and offering change) as well as cards the purchase is quick and straight forward. Encourage people to make certain purchases at specific times of the day with "time of day discounting" – which allows you to lower pricing on a choice of drinks for a set duration.
You can announce the next "Happy Hour" using the programmable message board next to the keypad.
Patented hi-capacity can trays allow for the maximum number of drinks to be stored. Trays are adjustable to suit the size and shape of various cans and bottles. Remote monitoring alerts ACTIVEND to replenish products as quantities are reduced.
ACTIVEND drink vending machines are designed to fit through standard doorways and with footprints as compact as 104 x 97cm they can be placed almost anywhere.
Advanced technology ensures lower energy costs:
Motor pairing (2 vending machines powered by 1 motor)
Class leading insulated cabinets and doors
Low-E triple pane Argon filled glass door
Eco-friendly refrigeration
Time of day shut down mode
Balanced air flow
LED lighting (no light bulbs to change)
ACTIVEND will deliver, install, fill, clean and service your drink vending machine free of charge.
Specifications
Specifications
Refrigerated drink machine for indoor or outdoor use. Temp to 4°C.
Open front drink Machine
Dimensions
Height – 1820 mm
Width – 940 mm
Depth – 900 mm
Weight  – 345kg.
Average Number of Selections/Capacity
40-48 selections (Bottles & Cans)
5,6,7,8 trays, 8 selections per tray
375ml Cans – 8 cans deep per selection
600ml bottles – 7 bottles deep per selection
Additional Features
Large lit product display maximising impulse purchases
Standard industry footprint for easy vendor placement
The worlds only positive drive vending mechanism, virtually guaranteeing package delivery
Precision delivery system for upright product delivery. Delivers products without free fall, thus eliminating product foaming mechanical simplification for enhanced reliability / serviceability
Heavy duty galvanised steel plate cabinet that will not rust if scratched, the steel selection buttons, and a three-point door anchorage with high security lock, deters vandalism and protects against theft
No Solenoids, Wiring or Switches In/On Product Shelves
5 individual pull out shelves
Accommodate 40 SKU's
Electronic Refrigeration
Delivery Optic Sensor for Vend Validity
40 Character 2 Line Display for Enhanced Consumer interaction
Vandal Resistant Door
Superior Customer Entertainment
Energy Star Compliant