"Going Up"…Fast, Efficient Elevator Technology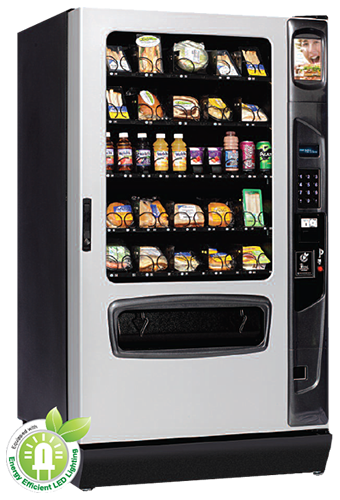 Snacks, chocolates, slices, muesli bars, dried fruit, nuts, microwave lunches and drinks come in all shapes, sizes and weights.
To ensure that each individual product is quickly selected and delivered, without harming the product or its packaging, we offer state of the art Elevator Vending with our snack, drink and combo vending machines.
Make your selection and watch as the automatic arm raises with split-second speed to the right location…gently grips the item…then descends swiftly to the delivery tray. You receive your purchase in no time, in perfect condition. The days of a drink can dropping down and going "clunk" in the tray are over.
This technology is of great benefit when you use a combination vending machine with its packets, bags, bars, trays, cans and bottles.
The elevator delivery system is complemented by 'dual spirals' which prevent soft packets such as chips and nuts from becoming jammed.
If you would like to know more about the benefits of Elevator Vending – or see it in operation – please contact ACTIVEND today.
ACTIVEND will deliver, install, fill, clean and service your drink vending machine free of charge.
Specifications
Specifications
The Alpine 5000 Elevator is the latest version of USI's class leading glass front food & beverage vending machine designed to gently serve a wider variety of prepackaged meals, sandwiches, salads, dairy, fresh fruit & beverages.
Dimensions
Height 72"(183 cm)
Width 41" (104 cm)
Depth 38" (97 cm)
Shipping Weight *975 lbs. (442 kg) *Varies with tray configuration
Electrical Requirements
230 VAC/50Hz, 5 AMPS;
With Heated Glass:  230 VAC/50Hz, 5.5 AMPS
Refrigeration Super 1/3 HP, R134a Closed System
Additional Features
•    Best in class energy efficiency
•    Proven elevator delivery system
•    Available in single or variable temperature versions
•     Advanced styling & touch screen interface options
•    Amiericans with Disabilities Act (ADA) compliant
•    Programmable health safety by selection, range or row
•    Unmatched beverage options
•    Motor pairing capable
•    Single & Dual Coil options
•    Large point of sale window
•    2 year warranty