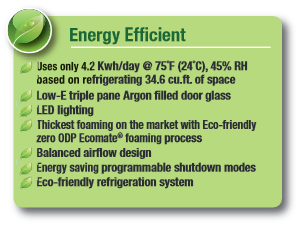 You walk past the vending machine each day and see the lit-up products in their chilled environment and wonder how much energy it must be using.
The good news is that Activend sources its machines from world leaders who are focused on energy efficient technology.
For example, electric motors are much more efficient and are able to power-down and switch to standby mode when the machine is not in regular use resulting in a 50% reduction in energy consumption.
Two vending machines can be paired to run off one motor. Eco friendly vending machines only use approx. 3 kilowatt hours per day which is equivalent to about to about 40c a day in energy costs.
With any refrigerated equipment the key is having insulation which maintains constant temperatures inside therefore requiring less energy to keep products chilled.Our vending machines feature Zero ODP Ecomate foam which is the thickest insulating foam on the market.
The glass doors are made of Low-E triple pane Argon filled glass. Temperature zones can be individually adjusted to keep the products fresh and draw on less energy at the same time.
Low-energy LED lighting provides a bright display area – which makes for quick and easy product selection. LED is now the preferred lighting technology around the world for energy-conscious manufacturers of cars, buses and even traffic lights.
Even the LCD control panels are designed to consume less energy whilst improving the selection process.